iTero® Digital Impression System
Conventional vs. Digital Impressions
No more goop, gagging, or discomfort. Using an iTero scanner, we can take a highly accurate digital impression of your teeth and jaw.
The new technology completely eliminates the tray and putty impressions, where the experience is comparable to stuffing a big wad of gum in your mouth. The old technique is incredibly unpleasant and frequently results in taking multiple rounds of impressions that can be rejected, broken, or misplaced.
The iTero scanner ensures a more accurate impression from the start, resulting in improved treatment and a more comfortable patient experience. Digital impressions also give you the ability to see your teeth instantly in 3D, which improves communication during the consultation and treatment process.
How Does it Work?
The iTero scanner digitally captures the structure of the teeth and gums using the latest optical technology. The scanner is a compact, hand-held wand. Once we begin the scanning process, it can be stopped and started as many times as necessary.
Your mouth is scanned with a radiation-free laser, and in as little as two to three minutes, the laser renders a digitally perfect, 3D impression of your teeth and soft tissue structures. Through digital software, you'll be able to follow the progress of the scans, including a 3D model of your teeth on our computer screen. The iTero scanner can be used for any orthodontic treatment, including Invisalign®.
---
PROPEL Orthodontics
A fast, gentle way to accelerate your orthodontic treatment.
We are excited to offer accelerated orthodontic treatment with PROPEL Orthodontics! If you're interested in improving the aesthetics of your smile, but are put off by the thought of having to spend months, or even years, in braces, PROPEL could be right for you.
This state-of-the-art technology speeds up tooth movement, and though each patient varies, many can now have their orthodontic treatment completed in less than a year.

So how does PROPEL work?
In the past 20 years, new treatment options have made our patients' orthodontic experience more efficient, but not necessarily faster. That is, until now!
PROPEL works with your own biology by stimulating the bone surrounding your teeth, helping the teeth to move faster and more predictably into their ideal position. This allows you to see your new smile faster and requires fewer visits to our office.
PROPEL can be completed right here in our office and does not require any invasive surgical procedures. Additionally, PROPEL treatment yields very little discomfort. There is zero recovery time and you will be able to return to your normal daily routine immediately.
PROPEL can be used for approximately 80% of patients receiving orthodontic treatment and can be applied in conjunction with any treatment type, including TADs, clear aligners, clear braces, and conventional metal braces. To learn more, contact our office!
---
Virtual Consultations
Live Virtual Consultations and Virtual Visits now available! We are now offering both new patients and existing patients the ability to connect with us virtually.
Instructions for New Patients
1. Fill out the New Patient Form providedhere.
2. Take the following five pictures of your teeth to the best of your ability: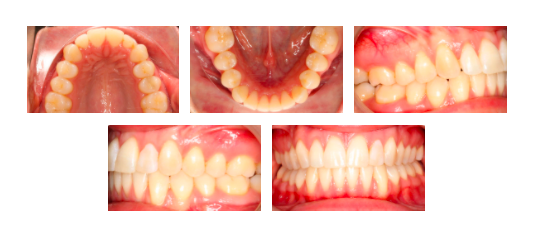 3. Use the tab on the left hand side of this web page titled "Virtual Consultation" to upload your photos. Dr. Bullwinkel or Dr. Vincent will review your photos and create a preliminary treatment plan for your orthodontic needs.
4. One of our team members will reach out to you to schedule a follow-up. We will review your treatment options and an affordable payment plan with you.
5. Start smiling!